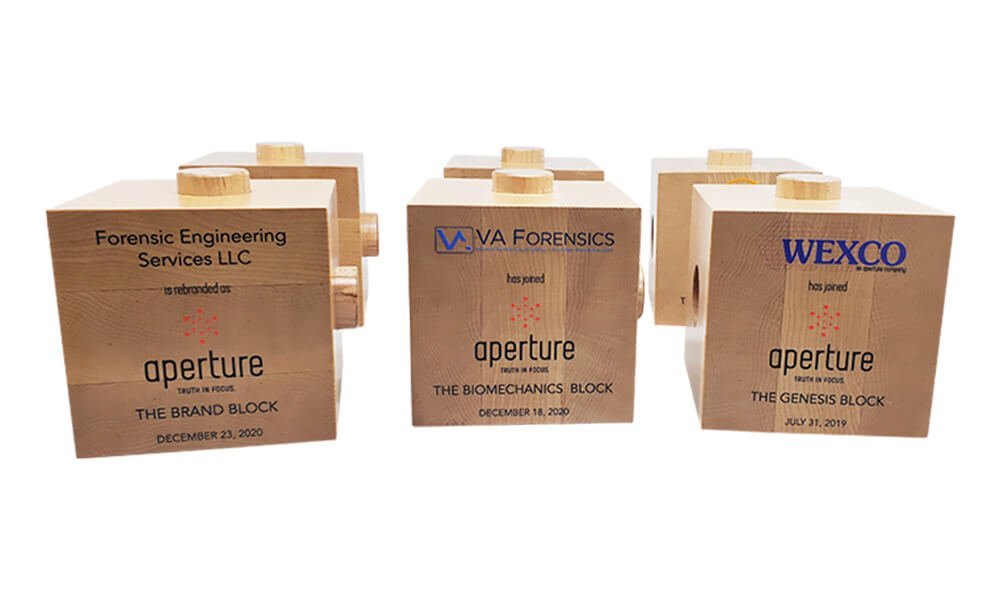 You may already be planning to commemorate more than one transaction in your deal toy.
There are any number of circumstances in which commemorating multiple, though related, transactions in a single deal toy makes obvious sense.
Aggregating multiple transactions like this can also save you both time and money.
Tombstone "Graveyards" and Deal Backlog
But there are a number of other compelling reasons for combining related transactions in a single deal toy design.
Your bank, or group, might simply have accumulated a backlog of deals that need to be commemorated.
Depending on the circumstances, "tombstoning" a backlog of deals like this as a series of separate projects can duplicate a great deal of time, money, and effort.
One solution involves so-called, "graveyard" tombstones (see piece above), which combine a number of deals in a single piece. The selected transactions can be used to showcase expertise in a particular sector, or for a specific client, or simply those done during a given time period.
One advantage of bundling backlogged transactions in a graveyard piece is that, depending on your group or bank's deal toy history and the extent of the backlog, handling them as separate deal toy projects can involve certain risks.
Your bank—or your client(s) for that matter—might, for instance, have made branding changes during the time period covered by the deals. These changes that might affect logos, taglines, Pantone colors or more.
Or your bank may have changed or varied slightly its formatting for deal text during that time period.
As a practical matter as well, do you really want to be scrutinizing the deal texts of, say, six different transactions for any inconsistencies involving logos, font sizes, or general formatting? Assigning all these separate projects to a single individual could be burdensome and impractical; on the other hand, divvying them out to six different individuals—and coordinating their progress and results–could be equally impractical.
Deal Toys for Multiple Transactions: An Overlooked Marketing Tool
Combining transactions in single piece might therefore be a fast and cost-effective alternative to managing multiple tombstone projects.
The strategy can also provide several highly effective—though frequently overlooked–marketing opportunities for your firm or group.
A "graveyard" collection of related tombstones of this sort might, for instance, pull together and showcase deals in a certain sector, or geographic region, or even those done on behalf of a certain client.
A Note about Deal Toy Designs and Materials
The pieces shown here are not meant as an exhaustive inventory of all possible designs for deal toys for multiple transactions.
Deal toys typically involve a high degree of customization, and it would be impossible to capture all possible design permutations.
On the other hand, the designs could provide you with an initial starting point for a multiple-transaction deal toy; and at very least, they could help crystallize your thoughts prior to discussing options with your colleagues, or reaching out to a deal toy company.
A note about materials: the deal toy designs included here include both crystal and Lucite (acrylic) pieces. Many of the designs here could be rendered in either acrylic or crystal, either in whole or with some modifications.
Two-Transaction Deal Toys: Some Standard Shapes to Consider
Again, no one's suggesting here that it's your job to come up with design ideas for a multi-deal piece like this.
On the other hand, you might still benefit from seeing examples of past designs. Perhaps you want to integrate a map, or highlight photographs in the design—or use your client's logo as its centerpiece.
Again, the purpose of this article isn't to provide an exhaustive list of all possible shapes and designs for multi-transaction deal toys. Our goal is simply to point you to some initial design possibilities.
The shapes listed below are especially suited to pieces commemorating two transactions.
The designs shown below are based on standard shapes, such as prisms, two-panels, and curved rectangles, and finally, standard rectangles.
The number—and type—of design elements planned will obviously influence the choice of shape.
Prism
The Marriott Munich Hotel piece shown here, for instance, highlights a single photograph, which appears behind the deal information for both transactions.
Similarly, the ODEC piece shown below makes use of the same prism design with an etched logo as the centerpiece.
The two remaining pieces, by contrast, use separate design elements (photos and logos) to accompany the two transactions.
Curved Rectangles
Curved rectangle designs tend to have more cachet than standard rectangles. The design shown below is acrylic, but the crystal is also popular for curved rectangle shapes—and for both one and two-transaction designs.
Standard Rectangles
Rectangles are one of the most basic shapes for deal toys. They can obviously be enlarged to accommodate two or more transactions.
One of the less obvious benefits of combining transactions is that, because of the cost savings, even fairly standard shape like a rectangle can be enlivened by other design elements.
The two designs shown below, for example, include elements such as the laser-etching of a logo on the back of the piece (IMCD), and the addition, in the case of the Workday deal toy, of a shadow box.
More Elaborate Two-Tombstone Deal Toys
There any number of ways that design elements can be introduced and added to two-tombstone pieces.
In the tombstones below, for example, design elements play off of products, logos, and in the case of the BKB Bank piece, a map tied to the location of the deals.
Other Multi-Deal Tombstone Design Options: Puzzle Pieces, Spinning Elements etc.
The multi-transaction deal toys involve more elaborate designs.
Again, there are any number of possible variations. As shown below, these include hinged pieces, designs incorporating a spinning element, and puzzle pieces.
Multi-Deal Tombstone Options: Modular Designs & Beyond
Modular designs should be kept in mind in cases where related deals are anticipated, though not yet completed.
The puzzle piece below provides an example of one possible modular design. There are a number of other modular possibilities, each involving differing degrees of complexity and expense.
The deal toys below illustrate just how many transactions can seamlessly be combined in a single design. The first shown here combines five separate transactions, the second six.
"Graveyards": A Cost-Saving and Marketing Opportunity
As noted previously, so-called "graveyard" pieces that incorporate a number of tombstones can be highly cost-effective.
Graveyard pieces can be adapted for a number of purposes.
The crystal piece below, for example, incorporates deals done by the same firm over a six month period.
The "graveyard" piece below, on the other hand, gathers deals in which the same client had been represented, providing a tangible, and extremely cost-effective means of solidifying a client relationship.
Our clients have also used graveyard pieces to aggregate deals done in a specific sector, a visually compelling means of documenting a firm or group's track record and expertise.
Conclusion
Combining multiple transactions in a single deal toy can provide a quick solution to what might otherwise be not only a headache but a considerable time suck. Few bankers have the time to invest in clearing up a backlog of deals that need to be tombstoned. Farming those projects to multiple team members, on the other hand, poses risks and headaches of its own.
Deal toys incorporating multiple transactions can also have an independent marketing value. They can serve to showcase and promote your firm or group's experience and expertise in a specific area. They can also be used strategically to commemorate—and further—a client relationship.
David Parry is the Director of Digital Strategy for The Corporate Presence and Prestige Custom Awards, a designer and provider of  deal toys and custom corporate awards, ranging from creative employee and client recognition awards to the NFL Commissioner's Awards and ESPN's ESPY.