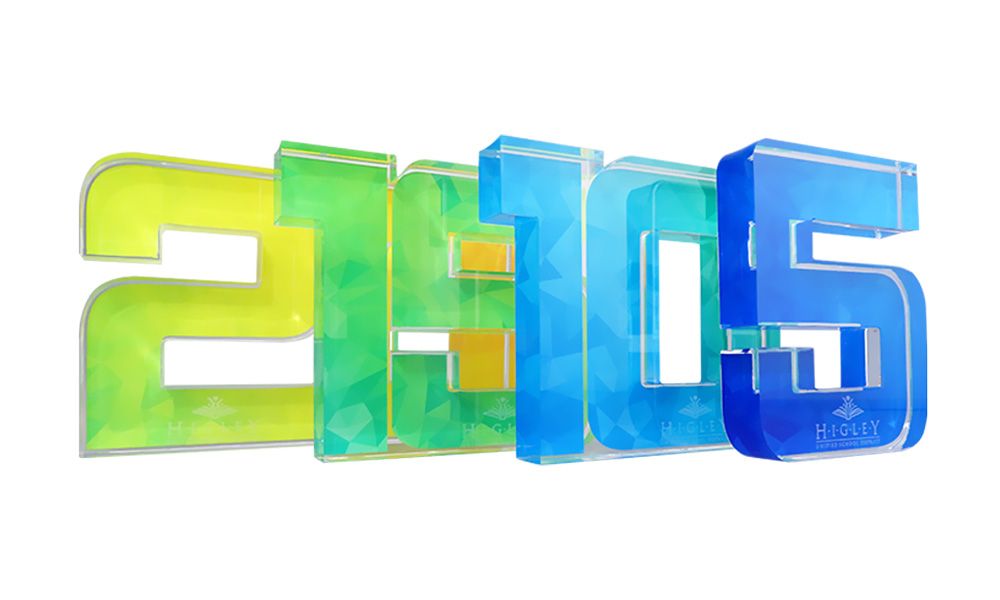 There's a real irony at work when it comes to years-of-service award ideas and designs. These are, after all, awards recognizing loyalty and commitment—and over a sustained period of time.
But "time" is something most years-of-service awards don't often reflect.
Most look like they were just hastily selected from some online menu of premade, lookalike, interchangeable pieces. Then, once a piece is chosen, someone at some warehouse grabs that prefab design off the shelf. Most often, someone else then engraves a few lines of formulaic text onto the award.
And then, off it goes.
So, something that reflects very little time and effort will be given to someone who's being honored for putting in….time and effort.
But there are alternatives; and they don't have to involve huge investments of time and money.
We've provided below five alternative years-of-service award ideas that can ultimately save you both time and money. More importantly, they can vastly increase the perceived value of these longevity awards among the valued employees you're seeking to honor.
Years-of-Service Award Ideas that Serve Three Important Goals
But first, you may already be questioning the entire premise here.
If you're the person with the responsibility for finding years-of-service awards, why wouldn't you go the route that involved the least amount of time? Why wouldn't  you choose the process that required the least amount of effort on your part?
Yes, making a selection from a group of preset designs might seem like the path of least resistance. And you no doubt have plenty of demands on your time. Beyond that, you may simply not feel creative enough to come up with "creative" award ideas.
So why bother with awards that are not off-the-shelf?
First, no good awards company is going to leave you to come up with design ideas on your own. More importantly, with a slightly greater amount of time and effort on your part, you can actually achieve three significant ends.
Vastly increase the perceived value of the award to the recipient (and your own role in the awards process).
Find an award design that not only honors your recipient but also furthers your corporate or organizational brand.
Develop a distinctive, signature years-of-service award design (as many of our clients do) that achieves the first two goals, and also saves you considerable time and money in the long run.
Years-of-Service Awards That are Distinctive but Practical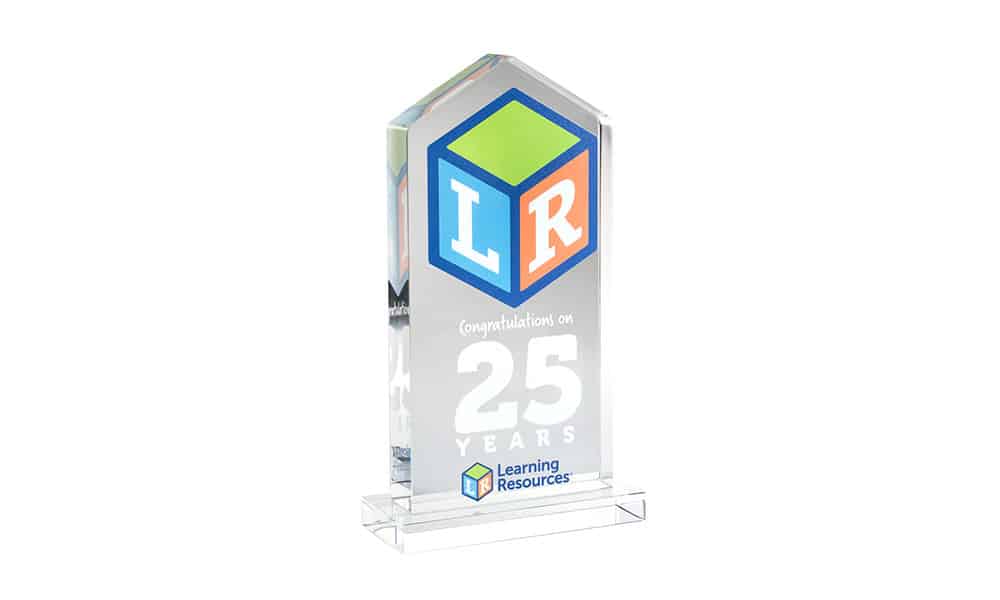 Play off your organization's logo: This might seem like an obvious design suggestion, but its value is often overlooked. Years-of-service awards recognize the long-term commitment of individuals. But at the same time, they're also a celebration of your organization. They are a great opportunity to promote and further your brand. A logo-inspired design is a great way to accomplish this. The Learning Resources longevity award above is a great example of a subtle, yet effective us of an organizational logo serving as the centerpiece of a design.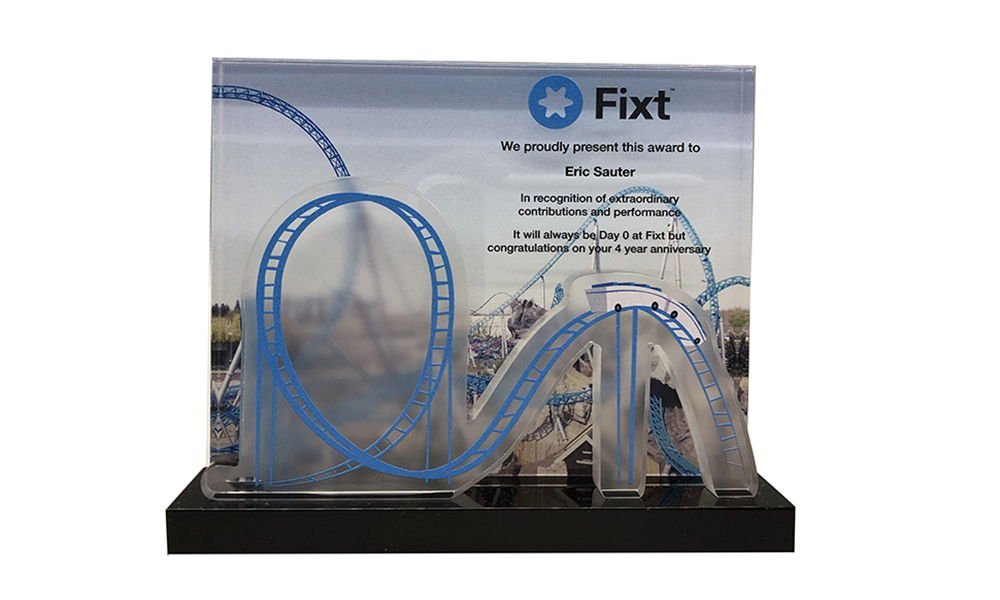 2)  Play off a theme: A rollercoaster in a years-of-service award? The design was meant to capture—and celebrate—the employee's tenure throughout a company's tumultuous start-up phase. (In this case, the start-up was the support platform Fixt.) We have also designed longevity awards centering on themes such as an organization's location.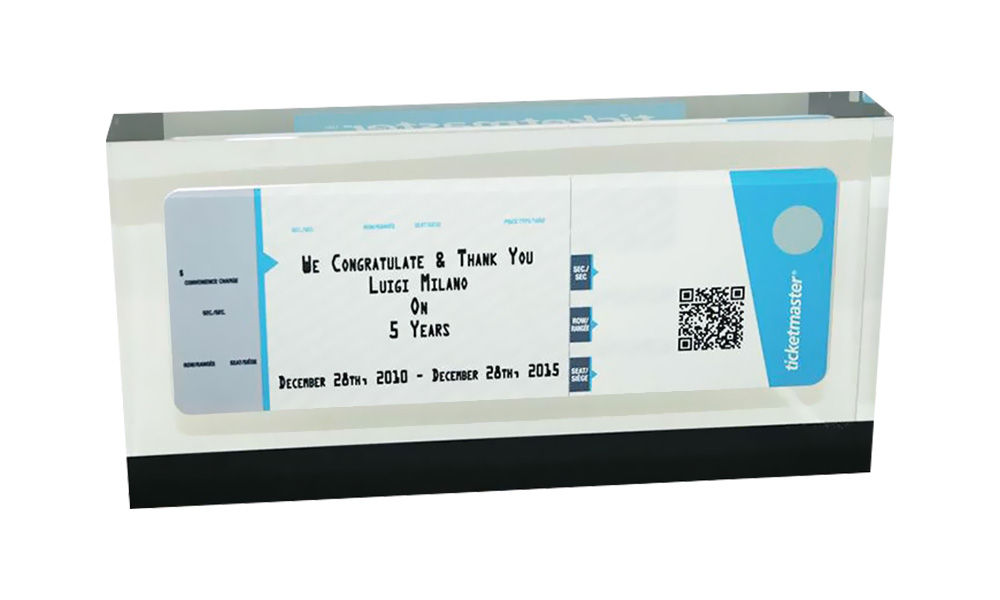 3) Play off your industry or sector: The ticket-themed service award above is an obvious tie-in to the core business of Ticketmaster. Despite its simplicity, the design is both eye-catching and distinctive.
4) Showcase your organizational mission: Another way to differentiate a years-of-service award—and further your brand—is to highlight the organization's mission. This can be done pretty seamlessly in a number of ways. The mission statement could appear in the form of a short slogan or motto, or in a longer piece of text.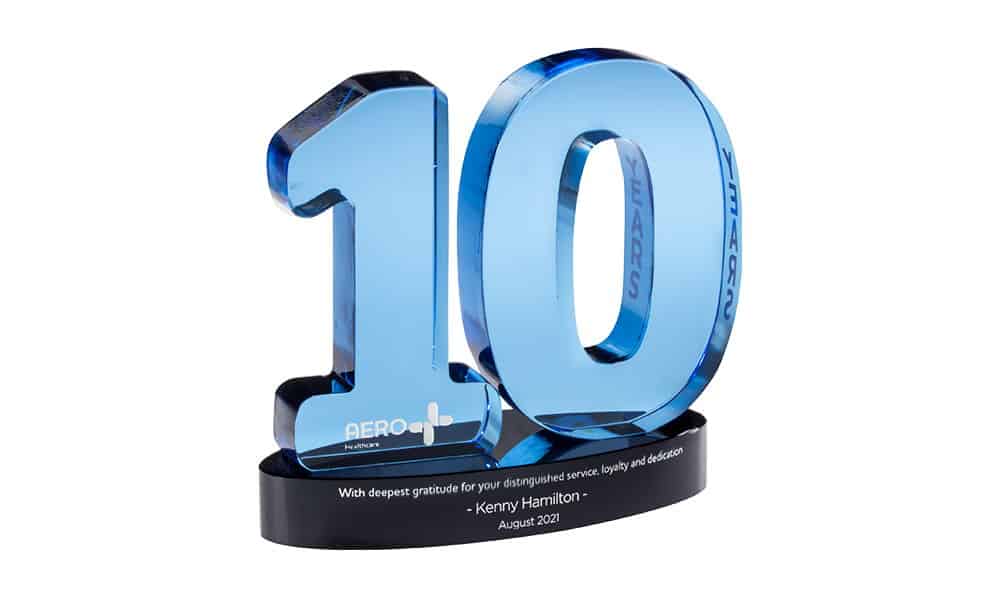 5) Play off a numeral: Numeral designs tend to remind many people of those cliched "#1" awards and trophies that are so unavoidable in online searches for employee recognition. Fortunately, there are a number of simple, yet elegant designs that can represent the number of years of service. The crystal piece shown at the top here, for instance, recognizes ten years. But the basic design—with a similar base—could be adapted for any number of annual milestones.
Developing a Signature Years-of-Service Award Design
As mentioned previously, in the process of exploring creative design options, many of our clients develop a signature award.
A standard—though still customized and distinctive—years-of-service award brings with it a number of advantages. It saves considerable time. It also avoids disparities and inconsistencies in quality and perceived value among recipients. (The last thing you want is for a recipient to feel slighted by someone else getting a "better" award for the same, or even fewer, years of service.)
But the most important benefits will involve showcasing your brand, and increasing perceived value. Our experience has been that signature designs tend to acquire even more cachet within organizations over time. This further enhances both their recognized values and brand resonance.
Exploring Creative Years-of-Service Award Ideas
At Prestige Custom Awards, we've been helping organizations and corporation celebrate achievements and milestones for over 40 years. We can provide you with a number of creative options for your years-of-service award program.
We're ready to guide you to practical design ideas that suit your budget and time frame. Reach out to us today and get the process started.