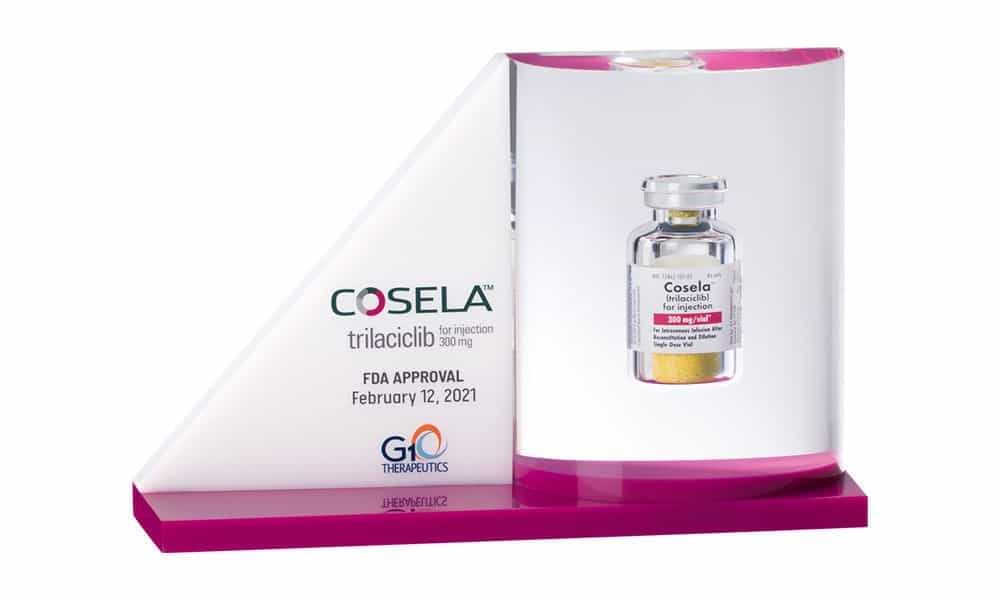 Looking for custom corporate awards to recognize employees or clients that are truly "custom"? Perhaps you're marking an organizational milestone, recognizing sales achievement, or commemorating a joint venture. Or you'd like to celebrate a team's work in developing a new product—or any of a hundred other occasions or events.
You might already recognize some of the advantages of custom gift or award for employees and clients—vs. some completely generic, lookalike, off-the-shelf alternative.
Custom corporate awards and gifts tend to have higher perceived value for recipients.
They also have a completely separate advantage. Namely, furthering your organization's brand.
But you think you simply don't have the time (or creativity) to come up with design ideas for a custom piece.
It might seem easier just to go to one of those corporate award sites and pick something off the shelf.  But that might also involve scrolling through the familiar, tired medley of cheesy, canned "recognition" products.
You do have a choice.
Here are 5 custom corporate award ideas that will truly resonate with recipients, and also reinforce your organizational brand.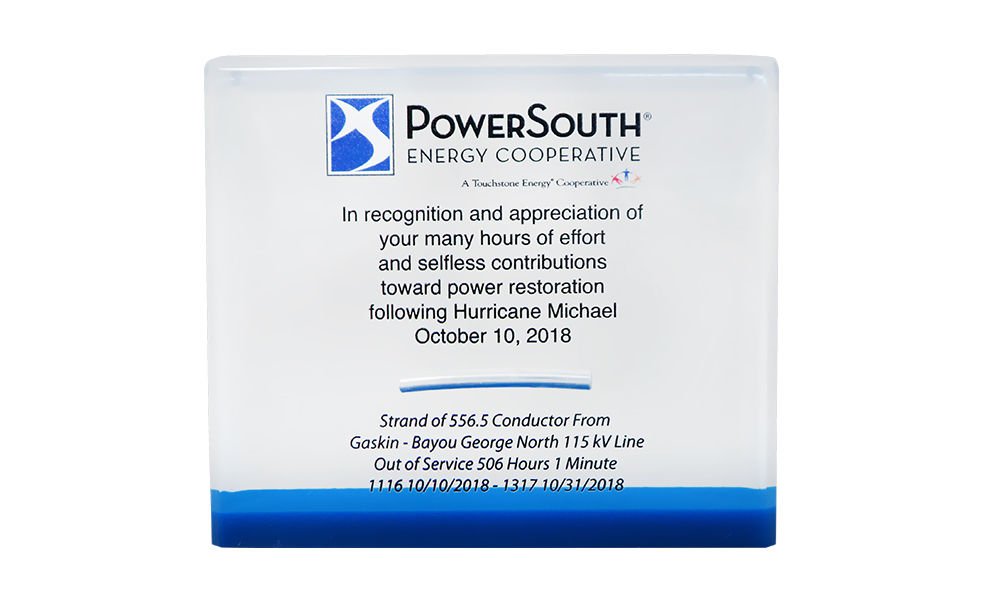 1) Include in Your Custom Corporate Award Something Unique to the Event or Achievement
The shortcoming of most recognition awards is that they're interchangeable and all-purpose. The exact same award you select can (and will) be taken off that exact same shelf to commemorate countless other unrelated events and achievements,.
And for countless other companies and organizations.
These awards tend to have nothing to connect them to whatever it is being recognized. The only connection to the recipient is usually in the form a line or two of text, either etched or on a plate.
By contrast, look at the Lucite commemorative piece above. There's nothing particularly striking about the design. In fact, it looks like a rectangular, acrylic block.
But consider what's inside the block—and what it represents. The piece was designed to recognize the extraordinary relief efforts of PowerSouth repair crews in the aftermath of Hurricane Michael in 2018.
PowerSouth could easily have taken the default route here. Someone at the company could've easily gone online and in minutes purchased a number of ready-made recognition pieces.
Perhaps a pewter star with the PowerSouth logo etched on it. Or they could've chosen a #1-themed crystal award with an engraved date.
The design chosen instead incorporates something that undoubtedly had very personal, profound meaning to the workers who received it.
Within each piece is a section of actual conductor strand. It's the same strand used to restore the 448 miles of transmission line that needed to be restored in the immediate aftermath of the Category 4 storm's 155-mph winds.
What kind of perceived value do you think this piece had to each and every one of the emergency workers who received it?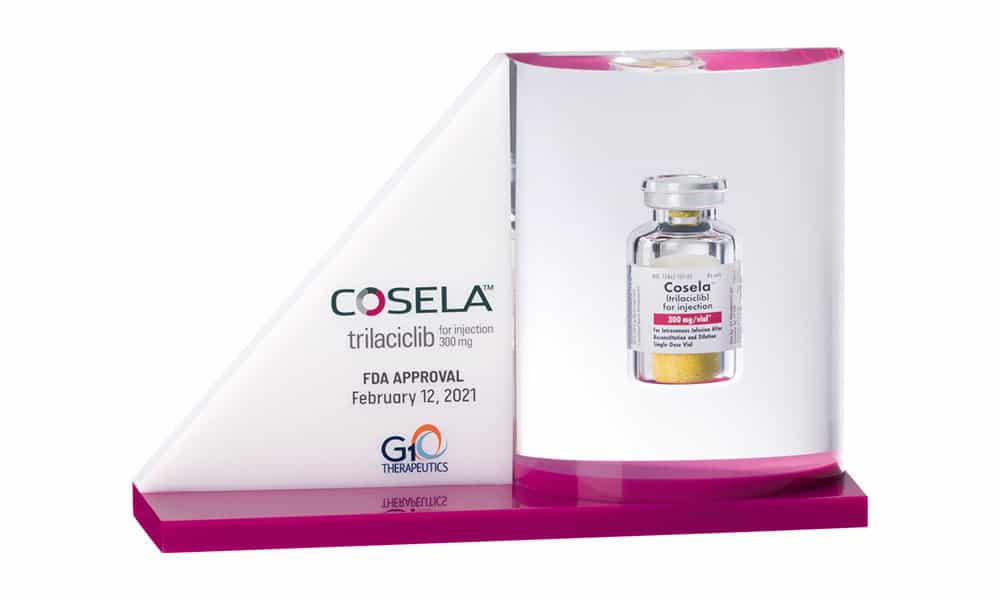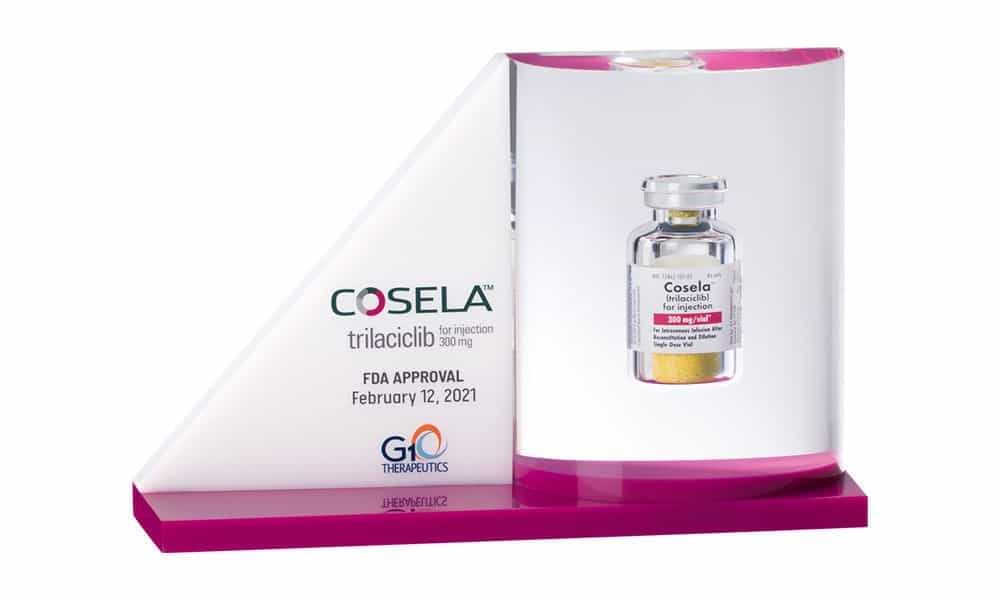 2) Showcase Your Product or Service in Your Gift or Award
Nothing is more unique to a company or organization than its product.
In instances in which that product is the subject of the achievement or event a Lucite embedment can deliver the same perceived value and cachet. These occasions would obviously include product launches and product development milestones.
A great example is the piece shown above, which celebrates FDA approval of Cosela with a commemorative incorporating an actual vial of the drug.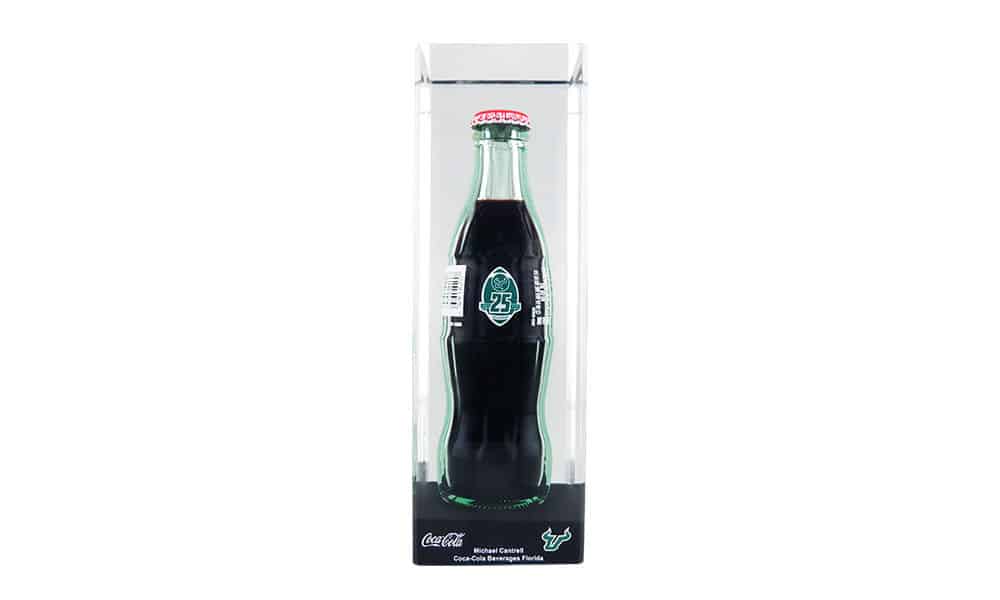 Another example is the piece shown here that incorporates an actual Coca-Cola bottle. The piece celebrates the long-term relationship between the company and the University of South Florida.
3) Play Off a Symbol of Your Product or Service
Most service organizations don't have a tangible representation of their efforts or achievement.
And even for those companies and organizations with a tangible product, there may be a more recognizable symbol of their product or mission.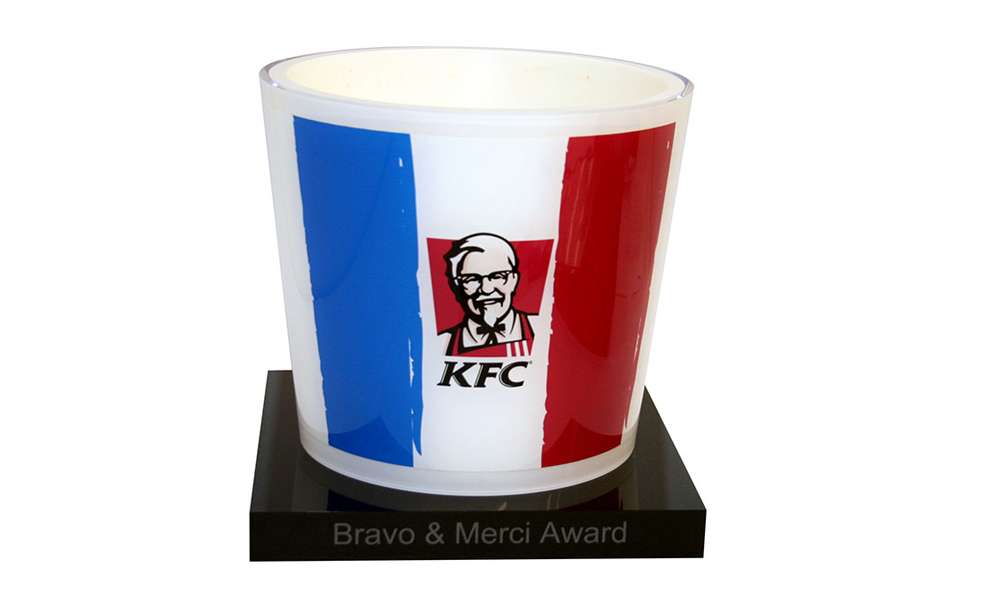 A great example of this providing the basis for a recognition piece is the "bucket" award shown here specially designed for KFC.
Another example is the saw-themed crystal award. It was developed for
4) Differentiate Your Custom Corporate Award with a Photograph
Yes, we've all seen framed photographs memorializing a collective milestone or achievement.
That's hardly a breakthrough concept.
But a standalone piece incorporating a photograph, especially a crystal piece to be displayed on a bookshelf or desk, tends to stand out from wall ornaments.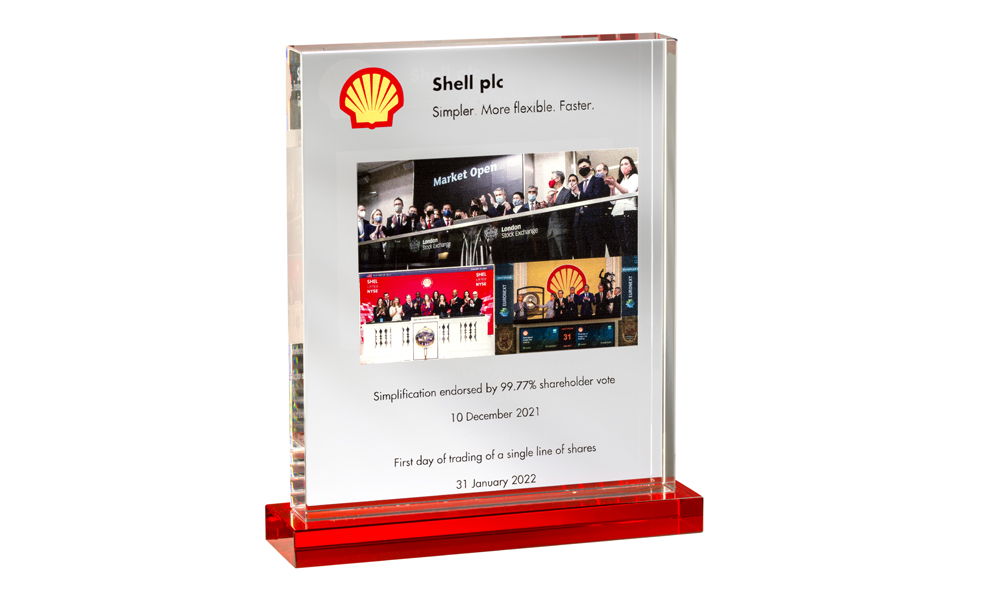 The distinctive crystal design shown here is one example. It commemorates an stock exchange bell ringing ceremony, as well as the underlying corporate milestone.
5) Base Your Award Design on Your Logo
Here again, the idea of finding design inspiration in your logo might seem pretty obvious.
After all, logos are virtually synonymous with the brand and identity of a company or organization.
What's not always obvious is the variety of ways an organizational logo can make for a truly a custom corporate award or gift design.
A logo might be introduced into a design subtly. In the PowerSouth piece shown above, for instance, it appears in the form of the blue bottom matched to the company's logo. (This in and of itself can be of tremendous value to a company or organization. Some logo colors are difficult to replicate, and this is understandably an important concern. IBM blue is not the same as Dodger blue, and neither is the same as American Express blue).
The crystal award designed for the fintech firm Marqeta also incorporates the company's logo is a relatively simple, straightforward way. (See our post for other logo-themed custom corporate award ideas.)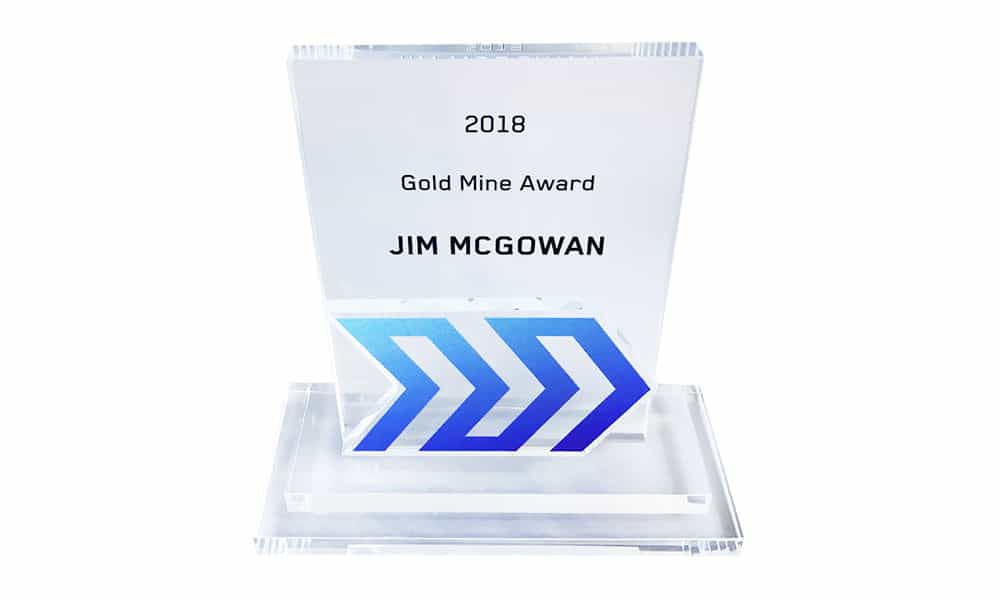 A logo shape can provide inspiration for a design, Here again, the creative possibilities are numerous.
The Dual Importance of Truly Custom Corporate Awards
For too many organizations, the default option for custom awards and gifts is the seemingly easiest and less threatening one.
After all, isn't it OK just to recognize your employees and stakeholders with something that was created expressly for that purpose? And many other organizations have chosen the exact same award or gift, doesn't that just suggest that it's got to be popular and effective?
Yes, these off-the-shelf awards and gifts make for an easier option. But the true value of any award or gift is in the perceived value they have for recipients.
Custom awards and gifts tend to have more cache and greater perceived value. And because of this they tend to be both kept and prominently displayed. That's dual advantage that not only serves to recognize recipients ,but can also further your organization's identity and brand.