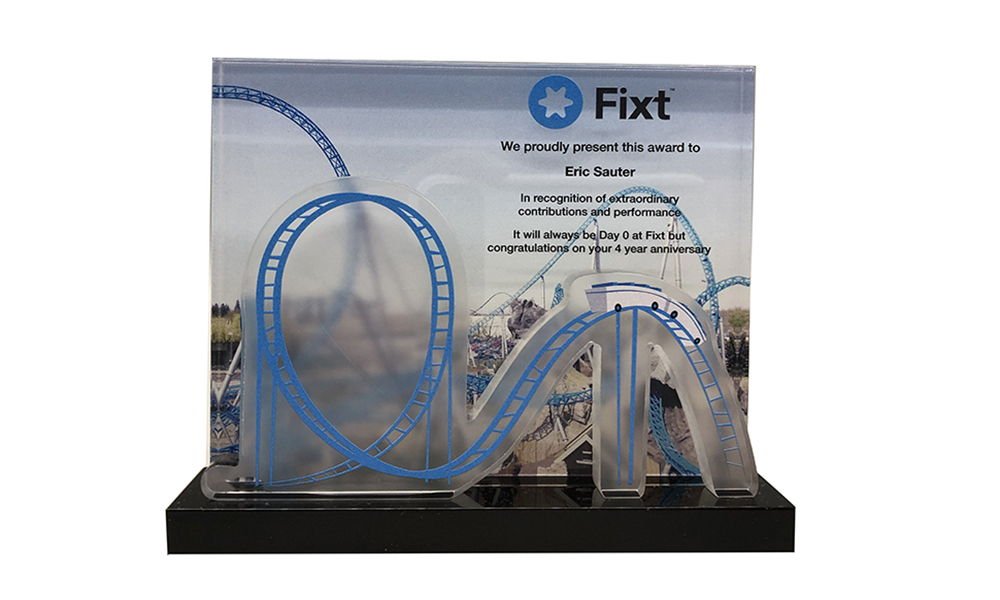 "Custom crystal awards" is a phrase that gets searched pretty frequently online. And you'll get plenty of results if you try it yourself. But many of the results you'll get are missing some crucial information. In some cases, they're just incomplete; but in other instances, they're just plain misleading.
A lot of that unreliable information centers on the word "custom". Many of the items held out as custom crystal awards really aren't "custom" at all.
But beyond this, it's often hard to piece together information about how, exactly, you could make a crystal award truly custom. What exactly are your design options? What are some of the capabilities—and limitations—of crystal?
For instance, can you put something inside a crystal piece?
You may have seen awards and commemoratives in which an object is placed within a material. It may have been a vial to commemorate FDA approval of a new drug. Or you may have seen a design incorporating a drop of oil. Can this be done in crystal?
You'll find below answers to these questions and more. This information should help you better understand both the possibilities and limits of custom crystal awards.
#1: Most "custom crystal awards" are prefabricated designs and in no way "custom".
At first this might sound like just a difference in terminology. But there's a crucial underlying reality that goes way beyond semantics.
Many vendors provide you with a preset menu of award designs, and then somehow refer to them as "custom".
But how can something not only made in advance, but mass-produced in advance possibly be labeled "custom"?
Minutes after design "#340A" (or whatever it's called) is shipped out to you, this same "custom" piece will be snatched off that same warehouse shelf again. And this time it will head out as the custom award for an entirely different recipient at a different organization.
Engraving a few lines of text on a piece looks great. But it doesn't make a crystal design custom. A truly custom design plays off unique features of your event, organization, mission, location, industry etc.
#2: You can't place objects inside crystal
The design above, which commemorates a joint venture involving Coca-Cola, is the quintessential custom design. After all, what's more "custom" than your iconic, flagship product?
Unfortunately, this design isn't possible in crystal.
Crystal offers a number of advantages and virtues. It has clarity, heft, and a high degree of perceived value. But one limitation is that you can't place items inside crystal. If you're set on showcasing something inside your commemorative, you need to consider an acrylic or Lucite embedment.
#3: On the other hand, there is a way of putting an element "inside" crystal.
You may not be able to put objects inside crystal, but you can simulate the effect. 3-D etching is an effect unique to crystal. It renders objects inside crystal in a very striking and compelling way.
The sideview above of an aircraft etched within an award shows just how detailed this effect can be.
And again, this is an internal lasering process unique to crystal. It can't be done in either acrylic or Lucite.
#4: You can't capture colors precisely in crystal.
This is another limitation of crystal. It also one that runs counter to many people's expectations.
Crystal may offer a range of different color possibilities, but the medium can't capture colors precisely. This is especially significant if you're organization has strict branding guidelines with exact specifications regarding, for instance, the proper Pantone colors that must be used.
You simply won't be able to match Pantone colors of a logo precisely.
#5: Crystal still offers a huge range of customization options.
We've mentioned above two common customization methods which aren't available in crystal. The first is the embedment of objects. The second is precise color matching.
That said, crystal still offers a number of customization options.
This is important to note, because there's such a high percentage of prefab designs online masquerading as custom crystal pieces. Not only is this deceptive, but it also gives the impression that these kinds of premade, standardized designs are your only option in crystal.
In fact, crystal is highly malleable, and can be manipulated in an unexpected variety of shapes. This opens up a whole realm of designs you may not considered in crystal. They include designs that might actually be "custom", such as ones in the shape of your logo, product, brand mascot etc.
The custom years-of-service award that appears at the top of this post is a great example. You might have assumed that the rollercoaster design (something meant to convey the experience of an early start-up) was something impossible to achieve in crytal.
Custom Crystal Awards at Prestige
At Prestige Custom Awards we specialize in the kind of unique designs that truly qualify as "custom". Make no mistake: we frequently provide clients with more standard, conventional crystal designs. These can be highly effective. And, importantly, they still have considerable perceived value among recipients.
But we can also help you explore distinctive crystal designs that will also resonate with your recipients. Additionally, these designs can have an enduring impact in furthering your organization's brand.
See whether crystal is the best material for your award. Get the design process started. Reach out to us today.