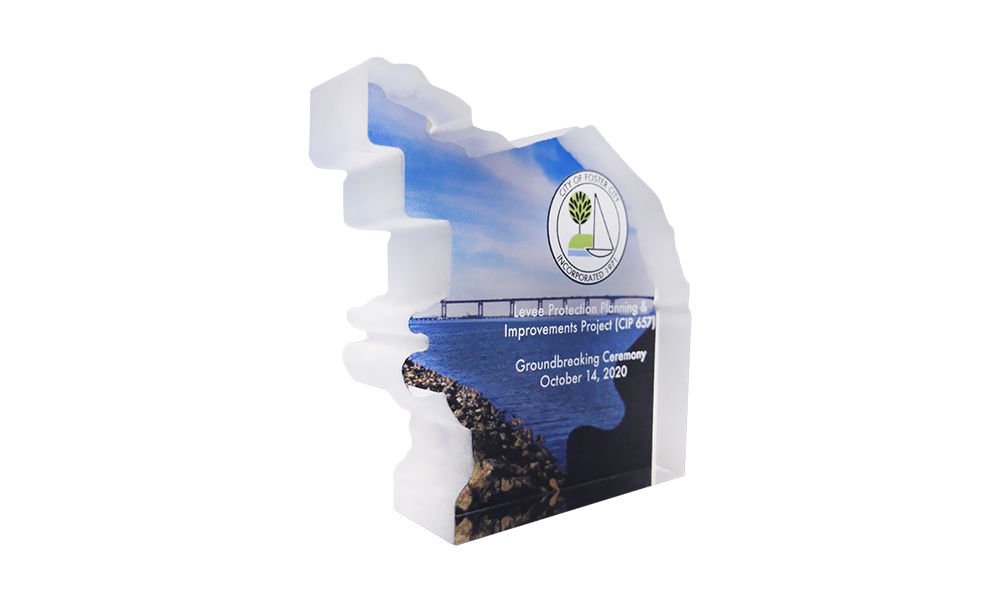 Crystal or Lucite? Great Question
If you're in the process of ordering custom awards for your company or organization, you 're probably already grappling with a pivotal issue. Crystal or Lucite, which material would be the best choice for your particular award?
The array of potential materials can seem daunting. The available alternatives include metal, pewter, wood, resin—to name just a few. But we've found that most often people considering custom awards overwhelmingly gravitate to either crystal or Lucite (acrylic). And this is based on over 40 years of experience.
Even if you don't have a fully-formed award design already in mind, you may still be sorting through a couple of specific issues and concerns.
Your company or organization might, for instance, have very specific and exacting branding standards that need to be observed. Which material would be better for capturing your precise PMS colors and other specifications? Or which material might be best for showcasing a company product? Or basing a design on your corporate or organizational logo, or even brand mascot?
In this post, we've laid out some of the differences between crystal and Lucite that you should keep in mind when weighing your options.
You might ultimately decide that neither crystal or Lucite is appropriate for your custom design. But at very least, you'll be in a better position to make an informed selection of materials.
Is Precise Color Matching a Concern for Your Crystal or Lucite Custom Awards?
Maintaining consistent branding standards is an obvious—and understandable—concern for most organizations. And if you are operating under strict branding guidelines, you don't want to hear that the best color match you can expect for your logo is something "approximate" or roughly in the "same color family".
After all, IBM blue is very different from Intel blue; and both are different from the logo blues of, for instance, HP or Dell.
You may be able to relax these standards when it comes to awards or commemoratives for certain events or occasions. But if exact color matching is a priority, you should be aware of the limitations of crystal.
A number of color effects are possible in crystal. But pinpoint color matching isn't one of them. If the expectation is that your logo color(s) will be replicated precisely, Lucite is the better medium for your awards. PMS matching (with the exception of gold, silver, and other metallic colors) is something that an experienced and skill Lucite factory can achieve.
Do You Want Your Crystal or Lucite Custom Awards to Showcase a Product or Item?
There are any number of reasons for making a product or item the focus of an award or commemorative.
You might, for example, want to recognize team members responsible for FDA approval of a new drug. You might have seen some commemorative ideas, especially Lucite embedments incorporating vials of the actual drug itself.
Or you may have seen Lucite or acrylic designs containing fragments of a beloved, soon-to-be-replaced stadium or facility (or, in one project we worked on, fragments of the mold used for a statue commissioned by an NFL team to honor its Super Bowl victory.
If this is the case, you should know that objects can't be placed inside crystal—only Lucite. Even then, there are a number of guidelines you should be aware of when it comes to these kinds of Lucite embedments.
The Flip Side: Something that Can be "Embedded", but only in Crystal
On the other hand, there is something you can place inside crystal that you can't put within Lucite.
But it doesn't involve an object.
There is a technique known as 3-D etching which enables highly detailed designs to be rendered inside crystal. It's ideal for situations in which the object itself can't be embedded within Lucite, either because of its composition or size.
The design below involves car seats, something clearly too large to encase in Lucite (and likely to singe in the Lucite baking process even if they could be.)
Available Shapes for Your Awards: is There a Difference?
Unique shapes are another reason to opt for custom awards. You may want a design crafted in the shape of your logo. Or create something with a geographic theme, perhaps in the shape of a state or country. Or something contoured along the lines of a new product.
There are any number of shape-inspired designs that you might be considering.
Lucite is often touted as the ideal choice in these cases. It's malleable, and has the capacity to be shaped and contoured in a wide range of ways.
But many people tend to believe that Lucite is the only option for these designs.
They assume that, by contrast, the only award alternatives in crystal are the conventional, classic shapes that most vendors push.
(Adding to the confusion here is the deceptive online practice on the part of some vendors in labeling mass-produced, standardized shapes as "custom" designs.)
What's less often appreciated is the range of shapes that can actually be rendered in crystal (as shown in the two photos of the groundbreaking commemorative at the top of this post.)
So if you're considering crystal as an award option, but fear it might exclude a number of design possibilities, be aware that that may be the case. You may well be able to get that highly-contoured design in crystal.
Ordering Custom Awards with Prestige
Prestige Custom Awards can help guide you through this selectin of materials. That may mean choosing between Lucite and crystal. But as mentioned previously, depending on your budget, timeline and other considerations, it could also mean opting for some entirely different material. In any case, you'll be able to tap our 40 years of experience an accumulated expertise. Reach out to us today.