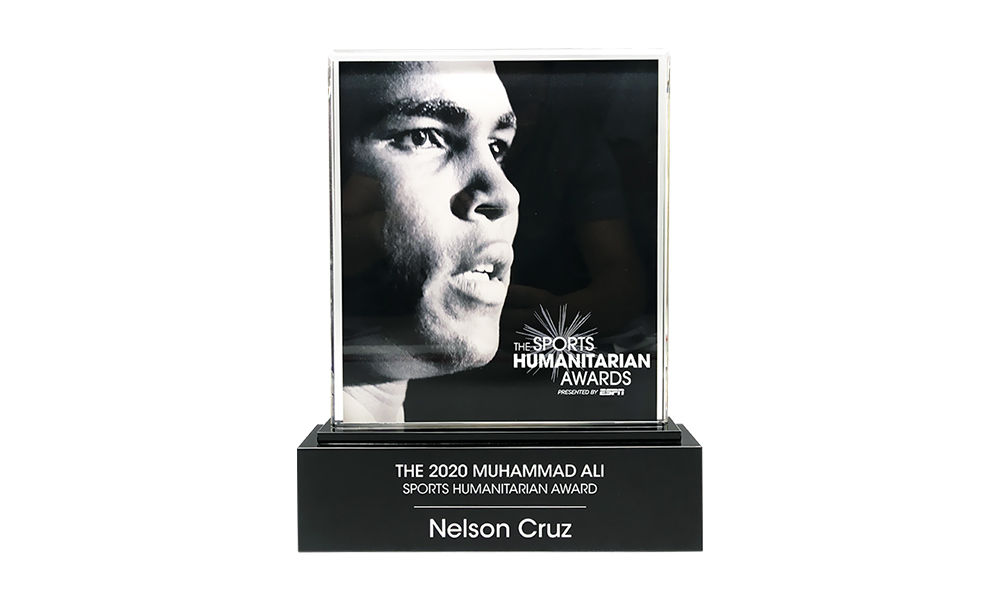 ESPN's annual ESPY Awards telecast has always had a special significance for us at Prestige Custom Awards.
It's long been a point of pride for us that we provide the actual awards presented at what is ordinarily a festive, celebratory event.
But it was clear that the 2020 edition would be quite different.
This wouldn't be a large-venue gala—complete with Oscar-style glitz, snappy monologues, and full red-carpet trappings.
And, frankly, it was hard not to have some apprehension about how, exactly, this year's ceremony might come across.
Would it even be possible to honor athletes at a time of national desolation and divisiveness without appearing tone-deaf?
And, on the other hand, would it be also possible that a remote, virtual version of the ceremony might come off as a little too threadbare, maybe even grim?
Sunday's telecast, as it turned out, was pitch-perfect, with an especially timely message of unity, tolerance, and, most importantly, hope.
Muhammad Ali Humanitarian Award Honoree Nelson Cruz
What had previously been known as the Sports Humanitarian of the Year Award was renamed in 2017 to honor Muhammad Ali .
The award recognizes athletes whose "continuous, demonstrated leadership has created a measured positive impact on their community through sports".
2020 recipient Nelson Cruz was recognized for his dedication to his hometown of Las Matas de Santa Cruz in the Dominican Republic.
Initially motivated just to provide a fire truck to his town after a friend's house had burned to the ground, Cruz has gone on to create a police station, medical clinic, ambulance corps, as well as providing access to medical supplies and personnel.
We at Prestige Custom Awards want to take this opportunity to honor—and thank— Nelson Cruz and all the 2020 ESPY award winners.