Looking for unique custom award ideas to recognize employees or clients?
Perhaps you're marking an organizational milestone, recognizing sales achievement, commemorating a joint venture, or a team's work in developing a new product—or any of a hundred other occasions or events.
Chances are you already realize the advantages of custom gift or award for employees and clients—as opposed to the some off-the-shelf alternative.
Custom awards and gifts tend to have higher perceived value for recipients.
They have a completely separate advantage: furthering your organization's brand.
The obvious problem, though, is you may feel you lack the time (or creativity) to come up with design ideas for a custom piece.
It might seem easier just to go to one of those award sites and pick something off the shelf —even if that means scrolling through the familiar, tired medley of cheesy, canned, and look-a-like "recognition" products.
But you do have a choice.
Here are 5 custom award ideas that will truly resonate with recipients, and also reinforce your organizational brand.
(At various parts of the site you'll find additional examples of some of the suggestions given here, such as logo-themed custom awards, and custom awards incorporating actual products).
 5 Ready-Made Custom Award Ideas
Showcase your product or service in the award
Play the design off a symbol of your product or service
Base the award or gift on your organization's logo
Incorporate a unique photo in the award or gift
Base the award or gift design on a special organizational theme
There are obviously many degrees of customization possible for a recognition award.
Customization might take the form of an award or gift in the shape of a logo, or a product. The custom award or gift could also incorporate the actual product itself.
Customization might also mean capturing not only the shape of the logo but also its precise colors as well.
Showcasing your logo, rendering its colors correctly—these are design options that directly bear upon (and promote) your organization's identity and brand.
Here are just 5 of the most common ways in which corporate awards can achieve this dual purpose. By doing so, you can the perceived value of award to recipients, while at the same time advancing your organization's branding and marketing efforts.
1. Showcase Your Product in The Award
Nothing is more unique to a company or organization than its product.
That product—or service–might be represented by something tangible.
For instance, objects can be embedded within acrylic in a way that truly showcases them.
Why does this matter? It matters because of perceived value and cachet.
2. Showcase A Model or Symbol of Your Product or Business
The same level of customization–and cachet–can be also achieved by basing a design on something closely associated with the corporation, organization, or product or service.
The custom award below, designed for KFC's corporate parent Yum! Brands, is a great example.
Similarly, the custom sales award below incorporates a pewter microphone, playing off Cumulus's core radio broadcasting business.
The pieces above are more traditional employee recognition awards that benefited from the additional cachet—and brand reinforcement—gained through customization. The acrylic award below marked an organizational milestone.
3. Customize a Design Based on Your Logo
As with a product, logos are virtually synonymous with the brand and identity of a company or organization.
The three designs below illustrate how standard employee recognition awards can be elevated through customization. In both cases, a customized design showcasing each organization's logo not only enhances the perceived value of each award for the recipient, but also highlights and furthers each organization's brand.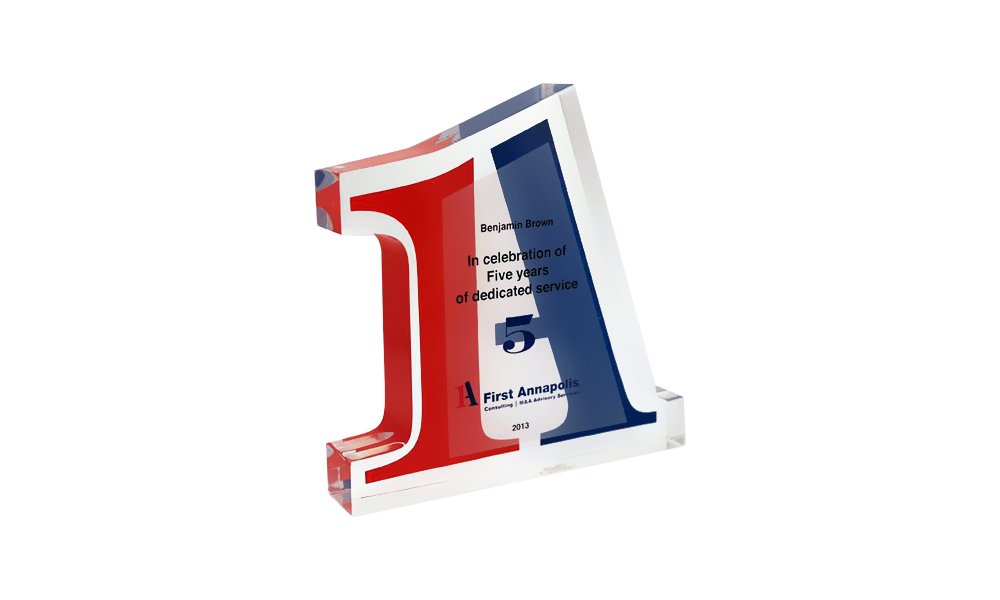 The design shown below demonstrates how this same dual purpose can be achieved for sports awards. Sports awards have long been the province of traditional trophies and off-the-shelf pieces. This customized piece for the University of California, Berkeley—based on the script "CAL"—shows how even traditional awards can serve the branding end.
4. Make Use of a Unique Photo or Photos
Making use of a photo—as in the acrylic designs below celebrating joint venture agreements—-would appear to be a fairly obvious idea. And why not simply take the photos and put them in some kind of commemorative frame?
You could. And framing photos in that way can be done very tastefully and effectively.
What sets these designs apart, though, is their distinctiveness. Unlike traditional framed photos or plaques, these pieces tend to attract more attention—both from individuals inside and outside your organization.
Do you find that hard to believe–that these kinds of custom pieces attract more attention?
If you do, you should remember the experience of banks, which have been using custom acrylic pieces to commemorate deals for over 40 years. These designs are typically customized around features of the industry or companies involved in the transaction.
Bankers have found that these pieces—commonly called "deal toys"— actually benefit their employees and institutions in three distinct ways. First, they reward the individuals who participated in the deal; and because they are customized to reflect the specifics of the deal, they tend, as we've discussed, to have greater perceived value among those employees.
Secondly, these custom acrylic "deal toys" they serve as a visual resume—-tangible and eye-catching mementos of the banker's achievements. In that sense, they help advance the banker's personal brand.
Finally, these custom acrylic pieces help solidify the bank's relationship with its client on the deal. To the extent that a bank's client holds on to and displays his or her customized deal toy, they are seeing it on a regular basis.
The recipients are also seeing the logo of the bank that commissioned the piece as well. The acrylic piece therefore functions as desktop advertising—silently promoting the bank and its brand.
5. Customize a Design Based on a Special Theme
Sometimes an event, an achievement, or a milestone has such a distinctive theme that an off-the-shelf commemorative wouldn't seem appropriate—or even adequate.
Or perhaps you simply want to mark an occasion more creatively, you have in mind a themed award or gift doesn't lend itself to an off-the-shelf option.
The custom acrylic award/gift shown below is styled after a make-up compact. The connection to the underlying event is simple, as is the reason this particular design might resonate with recipients.
The piece commemorates a lease signing by NYX Cosmetics—which is also the parent company of L'Oreal.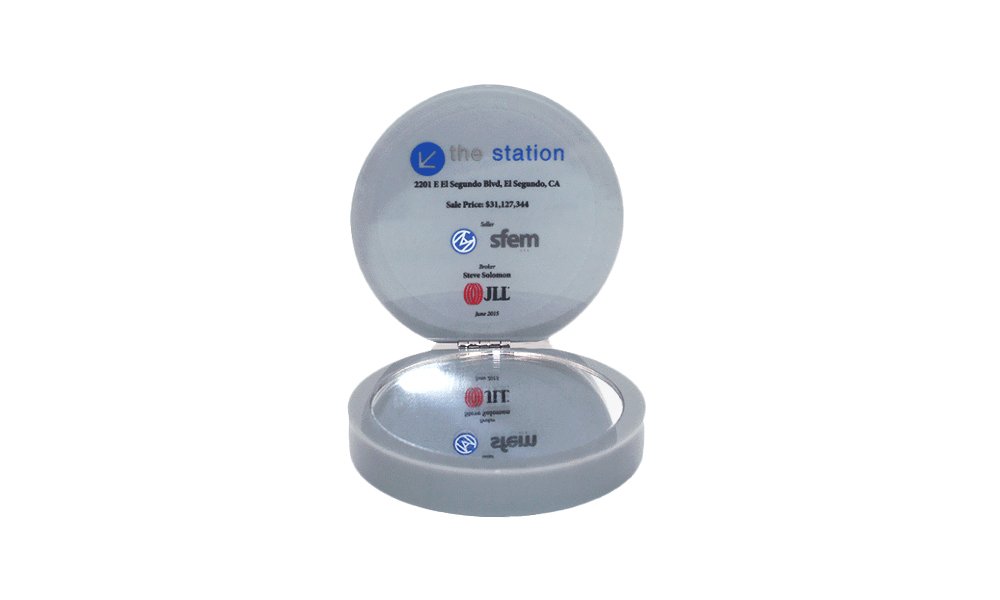 Summary
The default option for too many custom awards and gifts is often the same tired medley of cheesy, off-the-shelf "recognition" products. Customized gifts and awards tend to be both kept and prominently displayed—something that can not only serve to recognize recipients but can also further your organization's identity and brand.
David Parry is the Director of Digital Strategy for The Corporate Presence and Prestige Custom Awards, a designer and provider of custom corporate awards, ranging from creative employee and client recognition awards to the NFL Commissioner's Awards and ESPN's ESPY.