Logos frequently provide at least the initial basis for deal toy ideas, but many logo-inspired design options still tend to be overlooked.
Logo-themed deal toy designs tend to be fairly common.
After all, however complex or simple they might ultimately be, the perceived value and cachet of deal toys lies in their distinctive design elements; and logos, because they are by definition distinctive, offer a ready source of deal toy ideas.
The problem is that many bankers (understandably) may not recognize the full range of techniques available for a logo-themed design.
And because logos are again by definition unique, they are all different—and therefore tend to lend themselves to different design techniques and effects.
Also, some of the techniques lend themselves to certain materials more than others. This will also be emphasized in considering these effects.
This post is intended to give those bankers and others a feel for some of the many techniques through which logos could most imaginatively and effectively be used as the centerpiece for a deal toy design.
7 Deal Toy Ideas Highlighting Your (or Your Client's) Logo
1) Contour Designs
Contour designs make use of all or part of a logo in the outer edge of the design.
Here again, not all logos will lend themselves to this type of technique; but when used with an appropriate logo, the technique can result in some fairly compelling logo-themed designs.
Importantly, this kind of effect can be rendered in a number of media, including both crystal and acrylic (Lucite), as shown in the examples below.
2) Designs Using Spinning Elements
Incorporating a spinning element is another effective strategy for showcasing a logo in your deal toy design.
Please note that this is not suggested for crystal designs, but only for those in acrylic (Lucite).
The deal toy examples below are all Lucite designs.
3) Full-Logo Shapes
In these designs, as the name implies, the deal toy shape follows the lines of the full logo shape.
Designs of this sort can be rendered in a variety of media, including both crystal and Lucite.
4) Logo Cut-out Designs
Cut-out designs feature a freestanding element of the logo–typically the icon portion.
This type of design is fairly common, and can be rendered in a variety of media, including both crystal and Lucite.
The deal toy examples below are both crystal, Lucite, or, in the case of the piece directly below, metal.
5) Designs Using 3-D Etching
As mentioned previously, certain deal toys designs, such as those featuring spinning pieces, are associated only with Lucite.
On the other hand, 3-D etching, also known as "internal etching", is a technique used only with crystal.
One of the limitations of crystal is that objects cannot be embedded, or placed inside, as they can with acrylic. Though no physical object is actually placed inside the crystal, the 3-D lasering effect simulates just that.
6) Designs Featuring Dominant Logo Elements
This technique involves exaggerating what is usually already a dominant element in the logo.
Here again, not all logos will have elements that lend themselves to this kind of design.
Two views of a design playing off logo icon: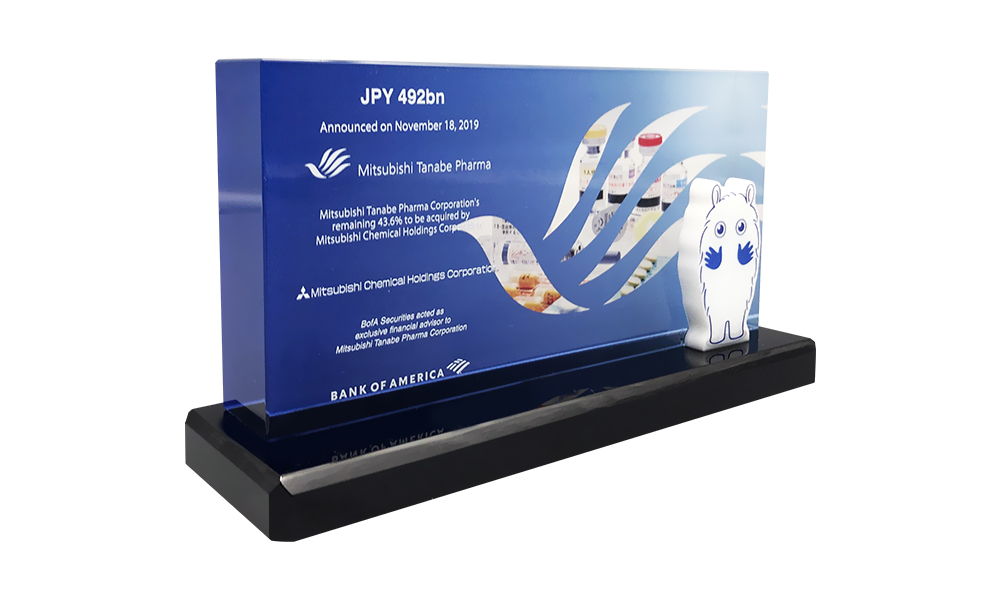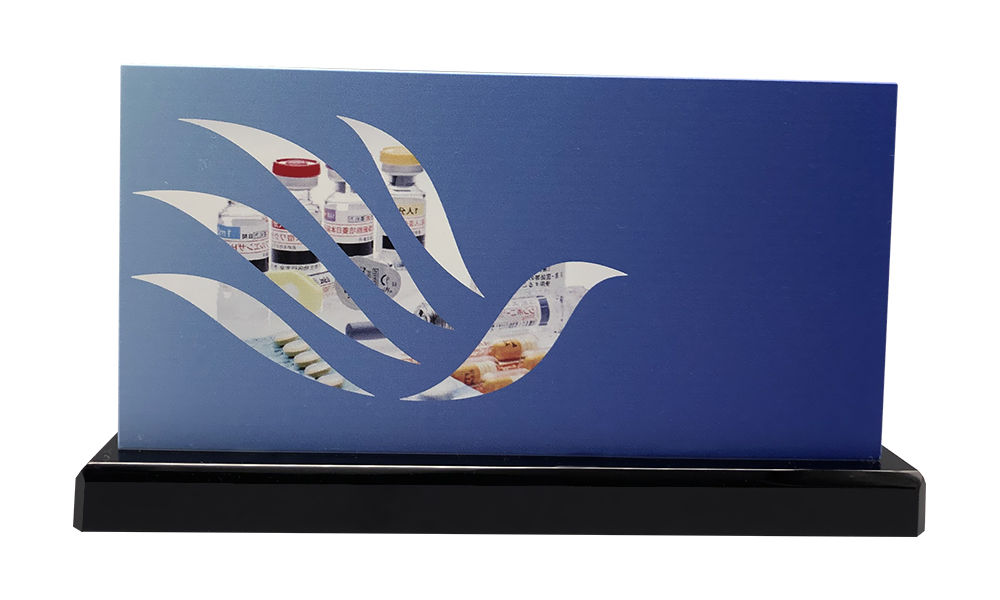 The deal toy below, commemorating an investment in the Spanish solar firm X-Elio, plays off the "0" in the company's logo.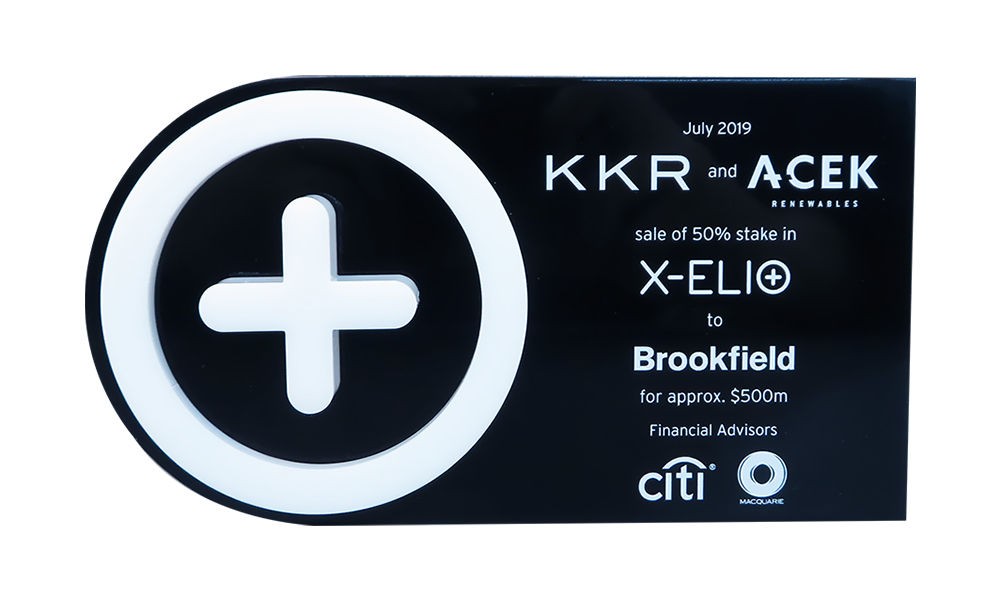 7) Designs Featuring Assorted Laser Etching Techniques
The laser etching process can be used to achieve a number of effects. These include the use of laser-cut plexi, and clear-cut and deep etching. The more common standard etch technique is also illustrated below.
Again, the most commonly used technique, which you most likely have seen, is standard laser etching of a logo, such as shown here on both the back and base of Purcari tombstone below.
The pieces shown here by no means cover all possible sources for logo-themed tombstones. At the same time, these categories can overlap with certain designs and deal toys falling into more than one.
It shouldn't be your responsibility to come up with deal toy ideas; that said, it is our hope that the pieces shown here will at least help crystallize your thinking when it's time to reach out to a vendor and initiate the design process. Having a concrete example of what you have in mind can save you a considerable amount of time.
David Parry is the Director of Digital Strategy for The Corporate Presence and Prestige Custom Awards, a designer and provider of custom corporate awards, ranging from creative employee and client recognition awards to the NFL Commissioner's Awards and ESPN's ESPY.